Raiden

Appearances (Anime)
Episode 01~
Appears in
Anime
Profile
Model Number
Tactical Armor Type17
Affiliation
Secret Military Special Self Defense Force Instructor Corp. 3rd Experimentation Company
Construction
Gōwa Instruments
Special Self Defense Force
General Characteristics
Overall Height
4.4m
Body Weight
2.5t
Gross Weight
4.5t
Maximum Velocity
65km/h
Maximum Action Time
60 minutes
Occupants
1
Maximum Velocity
65km/h
Equipment

Smoke dischargers
Armbrust
Lifting winch

Weapons

25mm autocannon
75mm low-pressure gun
50mm grenade launcher
Tactical armor type17 RAIDEN (壱七式戦術甲冑 雷電) is a Tactical Armor.
Characteristics
Edit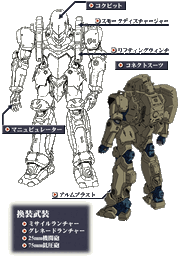 Raiden is built with a backpack that supplies it with enough energy to remain running for 60 minutes.
[1]
References
Edit
Ad blocker interference detected!
Wikia is a free-to-use site that makes money from advertising. We have a modified experience for viewers using ad blockers

Wikia is not accessible if you've made further modifications. Remove the custom ad blocker rule(s) and the page will load as expected.